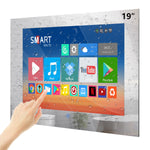 This is the latest TV and is released in 2021. This is available in two colors white and black and the mirror for screen protection is also in both these two colors. So you can get your desired color. This TV is specially designed for the bathroom and it is luxurious TV. You can place it anywhere in the bathroom even under the shower because it is completely waterproof and you can watch your favorite content over here while relaxing. This TV is protected with IP66 professional waterproof and the remote control is even more protected with IP68. If you will dip that in water it will not stop working.
Resolution
This TV has all the other features like the other TVs place in your drawing room and this is not less than those. Not only the feature of being waterproof the picture quality is also great. So one does not have to worry about the resolution. The image will be clear and bright and you will enjoy watching this TV. With the resolution of 1440×900, you will have a clear picture and the image seems bright. This TV is also dustproof and fog proof so you can carry it to your swimming pool as well. The brightness of this TV is 300cd/m2 which means the picture will not be blurred. The contrast ratio is 1000:1 and the aspect ratio is 16:9 which means the image will be adjusted very well.
Sound

The sound quality is also fine so you can watch content with clear pictures and better sound quality. This TV has 2 built-in speakers and each producing 5W of sound means both speakers collectively have the 8W of sound which is more than enough in the bathroom while relaxing. These speakers are also waterproof so they also cannot be damaged by any splash of water.
Additional features
This TV has so many features like it has Bluetooth and it has the access to Wi-Fi as well. It means you can stream online or also you can watch downloaded content as well. It has the access to YouTube, Netflix, and many other apps as well. You can play your favorite movie, series, and shows. It has many built-in apps and others can be downloaded as well. You can play games over here. It has an android system of 9.0.
Ports
It has different ports so you can connect your devices to your TV and can get yourself entertain even more. It has 2 ports for USB so that you can attach 2 USBs at the same time. You can watch your pictures and videos downloaded on USB on this TV as well. It has 2HDMI ports as well. It has 1 audio output as well. If you want to have more voice you can attach speakers to this TV as well.
Dimensions
Dimension of this TV are 451 x 340 x 32mm (W x H x D). The weight of the TV is 9kg.
Box things
There are various other things available in the box which includes: 1 x 19-inch Touch Screen Smart Bathroom TV, 1 x IP68 Waterproof Remote Control, power adapter, embedded bracket with screws, wall bracket with screws, installation manual, and 1 HDMI cable.
Price
This amazingly designed waterproof TV for the bathroom is available at the Haocrown Official website at a very reasonable price. So you visit the website of Haocrown Official website and place your order for this TV which is available at the price of $680.00. It is also offering a 1-year warranty so you can watch carelessly in this period because any error in the TV will be repaired free of cost. So do not miss an opportunity to grab this beautiful product.